Jet Black Myle Meta Device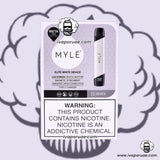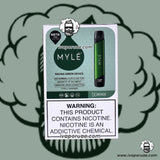 Description
The Meta Pod System is a new generation of device that delivers fantastic new technology that will allow for a superior vape experience. Our device features a new feature in the anti-leak protection customers have come to love about MYLE devices.
Features our patented leak proof technology but with a new spin on the isolation technology safeguarding you from leakage.
Inserting the pod into the Meta device will activate 2 metal prongs hidden in the interior that will release and push up a seal within the pod that once sealed will then trigger the device to saturate the coil with e-juice. Wait time to the first inhale is 30sec to 1 min.
This device has a 380mah battery, and working in tandem with the mesh coil's evenly distributed heating capabilities, will deliver consistency in flavor, ultimately providing for an unrivaled vape experience.
This device will deliver consistency in flavor due to an even flavor distribution, will not gunk up your coil and will deliver an easy smooth pull with no burning. Simply put, the new mesh coil technology enhances our already great flavors and the larger tank size will satisfy those looking for a longer lasting device. Our new generation pods feature a sleek design
MYLÉ Nicotine Delivery (ND) Meta Vape Device:
Title
Description
Product Name
Jet Black Myle Meta Device
Brand
Myle Vape
Battery Capacity
380mah battery with life indicator
Tracker
Puff Count Tracker
Screen
LCD Digital Screen
Technology
Anti-leak technology
Rechargeable
YES (Type-C)
What's in the Box:
1 Rechargeable Vape device, 1 Type C charger, 1 User manual
NOTE:
Be sure to remove the rubber stoppers from the top & bottom of the Pods before inserting into your Device. Meta Device ONLY compatible with Meta Pod.
More from this collection